Activities around Te Anau
Situated on the edge of Fiordland National Park World Heritage area Lake Te Anau Township is a natural place to base yourself if you wish to visit Milford or Doubtful Sounds, or any of the many incredible places throughout Fiordland.
Te Anau Township is a busy lakeside resort with a great range of restaurants, cafes and bars, shopping and services.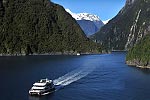 Take a guided day trip to Milford Sound and experience the incredible diversity and grandeur of the Milford road, which is an integral part of the whole Milford experience. There are incredible stories on the history and conservation of this place that will add to the sense that you will have truly experienced something special. The cruise out on to Milford Sound, the dramatic sheer rock walls of the Fiord and the underwater observatory are experiences not to be missed when visiting Fiordland.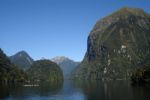 People often ask "Milford or Doubtful Sound?" and we always recommend "Both" if you can! Doubtful Sound offers quite a different experience to Milford. The journey to get there crosses the beautiful Lake Manapouri and the Wilmot Pass which will have you stopping for breath-taking photos many times. The cruise out on the Fiord is just stunning, with Doubtful Sound offering a serene but spectacular experience you will never forget.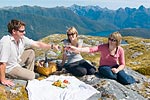 One of the best ways to experience Fiordland is by helicopter. Fiordland hosts some of the most experienced helicopter pilots in the world, many of them knowing Fiordland like the back of their hands, which is miraculous in itself – but we wouldn't fly with anyone who didn't! We highly recommend taking one of these trips. We have seen the results of our guests after they have and can assure you that it is a trip of a lifetime.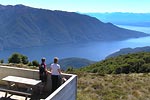 One of the best things we have done for a day trip is to fly to the top of Mt Luxmore, enjoyed a picnic lunch at the Luxmore Hut (on the Kepler walking track), explore this beautiful area and its stunning vista, and then walked back down to the beach to catch a ride back to Te Anau by water taxi. This is a fantastic thing to do with family - the helicopter entices them up the hill and they hardly notice the 3 hour walk back down!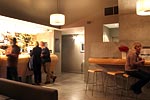 Te Anau is incredibly lucky to be the 'home' of Fiordland on Film – Ata Whenua, an incredible 32 minute movie produced by one of our most experienced helicopter pilots, who wanted to share the Fiordland he has been privileged to experience during his many years of flying. This movie is really an art piece and has been voted a "must see" when in Te Anau. Fiordland Cinema itself is worth a visit – you can sit by the open fire in the gorgeous bar, or take your wine in to the movie with you. The award winning cinematography and stunning musical composition will leave you breathless and completely inspired!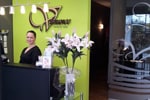 If you are looking to relax and unwind while staying at Prospect Lodge, Vibrance Beauty Spa Te Anau offers a tranquil, friendly and relaxing environment, where you can experience their comprehensive range of beauty services including facials and skincare, massage therapy, manicures, pedicures, eye treatments and much more. There are many gorgeous options for you to indulge in including an Exotic Escape Hydrating Body Wrap, a luxurious Full Body Massage or maybe a Pampering Honey Facial.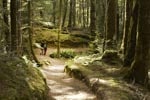 The Kepler Track, which is adjacent to Prospect Lodge, is a well-known 3 night walking track experienced by thousands of visitors each year. This whole peninsular, surrounded by Lakes Te Anau and Manapouri and the Waiau River is soon to be home to New Zealand's newest sanctuary through the Kids Restore the Kepler project undertaken by the Fiordland Conservation Trust and all local students from Kindergarten to College. Take a guided day walk through the start of this track to see the results of this newest conservation initiative and hear about the incredible work being undertaken.
Fiordland National Park is surrounded by beautiful fishing rivers, both within the park and around. There are many unguided fishing opportunities nearby and we can certainly help make recommendations. There are also world class fishing guides available to take you to some of their best spots by helicopter or 4WD.
Here to help with your Te Anau and Fiordland holiday
If you require any assistance or recommendations on itineraries, attractions or activities, we are happy to assist. We have over 25 years experience in the tourism industry in this region, and often assist our guests with advice on which activities may suit them best.
For a comprehensive list of activities and attractions, please visit the website of our regional tourist organization: www.fiordland.org.nz
Other links of interest:
www.fiordlandlocalnz.com - a directory for local businesses.