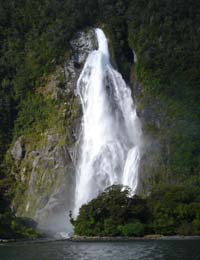 The amazing scenery of Milford Sound with it's jaw-dropping waterfalls is easily accessble.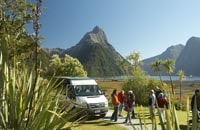 Trips and Tramps have been taking visitors to Milford Sound to see Mitre Peak and the sound itself for over 20 years.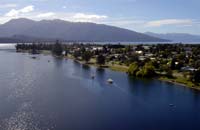 The resort town of Te Anau lies on the shores of the second biggest lake in New Zealand, Lake Te Anau. It is home to around 3000 people.
About Fiordland
Prospect Lodge is situated on the edge of Fiordland National Park – World Heritage Area, overlooking Lake Te Anau and adjacent to the Kepler Mountains, home of the well-known Kepler walking track. Fiordland hosts many visitors each year to visit some of the more accessible areas such as Milford Sound and its iconic Mitre Peak, or Doubtful Sound and if you are lucky enough, its lesser known 'Sound of Silence'.
Hiking and walking from your accommodation in Fiordland
Fiordland is home to other well-known walking tracks such as the Hollyford, Routeburn, Milford and Hump Ridge tracks, but also within a short driving time of Prospect Lodge are a great range of fantastic day walks, suitable for a range of capabilities. There is incredible conservation work being undertaken in Fiordland which is giving visitors to our area a good chance to see native bird species, some highly endangered, while on some of these walks. It can be very worthwhile taking a guided day trip to give you the extra realness offered only by people who really know the area and its flora and fauna.
Things to do and see in Fiordland and Te Anau
The list of 'things to do and see' in Fiordland are too numerous to mention, but we can offer advice or recommendations depending on your interests and time. Our activities page lists some of our highly recommended options, activities which we feel make a real difference to a visitors experience of this area.
We have an absolute passion for Te Anau & Fiordland, and know through many years' experience hosting visitors that you need to give yourself time to explore the area. There is a lot to take in, but we can certainly help you tailor your activities to suit.